Laterna Magica
Laterna Magica was founded in 1989 to follow the family literature traditions. Mikko's photo and Aapos movie library live in the shelves of or antiquary as well as the family's Russian collection.
Behind the sea of books - in our basement - we have 1 of the largest galleries in helsinki. We have around 50 annual exhibitions of photos, ceramics and paintings. The family has the oldest 'groundstore' in Lemi the Antiquary Taikalyhty which is open during the summers.
Address
Rauhankatu 7, 00170 Helsinki
Open
Mon-Fri 10.00 - 18.00 (10.00 - 15.00)
Phone
(09) 135 7559
Mobile
050 525 0559
Homepage
Email
mikko.pekari@laterna.net aapo.pekari@laterna.net
VAT-number
0162568-8
Owner
Mikko Pekari and Aapo Pekari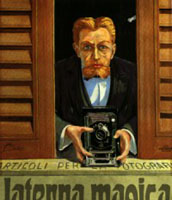 .